NOVEMBER 2019 UPDATES

ATTENTION ALL PATHWAYS' CLASS of 2020 PARENTS & SENIORS —
College Application Week is set for Monday, November 4 to Friday, November 8, 2019. Thanks to College Application Week, high school students in Alabama can apply to several Alabama colleges for FREE!
HEADS UP: I will need to send in a transcript for your senior AFTER they send in their application for admissions. If you are applying, please be sure to send me a message so we can be certain your senior's transcript in
fo is up to date and ready to be submitted.
Be sure to get your application in on time. College Application Week begins on Monday, November 4, 2019 and ends on Friday, November 8, 2019!
Go make Pathways Proud!
Mr. Michael Driskell
Pathways Academy High School Administrator
pathwaysmike@gmail.com
OCTOBER 2019 UPDATES


Senior/Parent Class of 2020
Graduation Information & Registration
We are so proud of all our Seniors. We know you are, too. The Pathways Academy Class of 2020 Senior Recognition and Graduation Ceremony is scheduled for 2:00 PM on Saturday, May 16, 2020 at The Church at Wills Creek, located at 2730 Wills Creek Rd, Gadsden, AL 35904.
As the day of celebration draws near, we would like to remind you of our graduation procedures, policies, ceremony details, and deadlines. In order to do so, Parent/Guardians of 2020 Seniors should make plans to attend the Senior/Parent Graduation meeting set for Thursday, October 17, 2019. This meeting is required for graduation. It will be offered at 2pm and 7pm. Parent/Guardians may choose the time that works best for their family by filling out the Registration and Reservation form on the Pathways' CheddarUp Reservation Page: https://pathwaysclassof2020graduation.cheddarup.com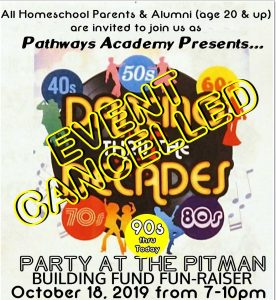 SEPTEMBER 2019 UPDATES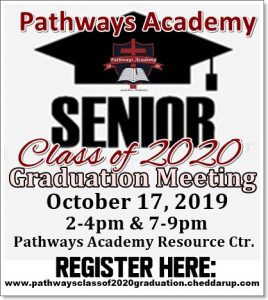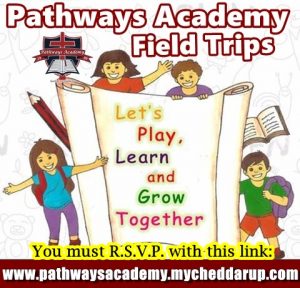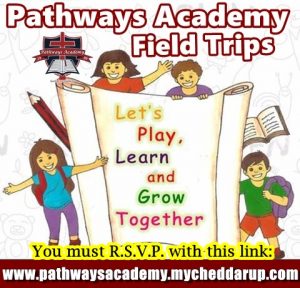 AUGUST 2019 UPDATES




~ PATHWAYS' FAMILY REMINDERS ~
This year's Re-Enrollment Deadline is Thursday, August 15, 2019.
Several online and offline payment options are available OR families may stop by the Admin table at the Pathways' Family Kick-Off.
The Pathways' Family Kick-off is set for Thursday, August 15 from 10am-Noon at the Kiwanis Pavilion & playground located in Noccalula Falls Park. We hope you will come join us for all of the info and fun activities at this year's Kick-off. There are so many wonderful opportunities for clubs, classes, activities, and events this year! Don't miss out! It is going to be a fun and very informative day! Teens from our service clubs will be entertaining the kiddos on the playground. Food, drinks, snow cones, and desserts will also be available. Please consider helping our service clubs jump start their fundraising projects for this school year.
Please note: Due to kick-off duties, the school office will be CLOSED on August 15. It will re-open at Noon on Thursday, August 22, 2019. Our annual "How to Homeschool High School" seminar will also be held on August 22 from 2-4pm. Families with students in 9-11th grade are encouraged to attend.
Pathways' Families wishing to attend, please RSVP by clicking on this link:
https://homeschool-high-school-19.cheddarup.com
Any questions? Please feel free to email an admin or send a message through the Pathways' FB page –
We look forward to assisting your family with your homeschool journey this year.
Pathways' Academy Administrators & Staff
"Show me your ways, O LORD, teach me your paths; guide me in your truth & teach me, for you are God my Savior, & my hope is in you all day long."-Psalm 25:4-5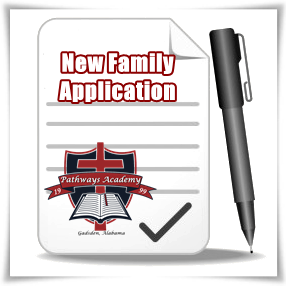 COME JOIN OUR PATHWAYS' FAMILY
The New Family Application can be printed from the "Enroll with Pathways" tab on the website OR picked up from the Pathways Academy Resource Center office <410 S. 3rd Street in downtown Gadsden> during THURSDAY office hours from Noon-4pm.
To avoid any truancy issues, we recommend families submit their application at least 1 week (preferably 2 weeks) prior to the date that classes resume at the public school your family is zoned for.


JUNE 2019 UPDATES


RE-ENROLLING FOR 2019-2020?

Current Pathways' Families wishing to re-enroll – click on the link to be directed to the 2019-2020 re-enrollment form. After filling out the re-enrollment form,
you may pay your tuition online using your debit/credit card or e-check OR check the CASH option and pay in the school office during Thursday office hours from Noon-4pm. Don't forget about the EARLY BIRD TUITION DISCOUNT! The discount expires on July 31, 2019!
Any questions? Please email an administrator or call the school office.
MAY 2019 UPDATES

PATHWAYS' FAMILIES – Check out this
EARLY BIRD ONLINE RE-ENROLLMENT BONUS!*
Re-Enroll Online with the CheddarUp site — https://pathwaysacademy.mycheddarup.com — no later than FRIDAY, MAY 31, 2019* and you will not only SAVE $10 off your family's annual tuition, your credit/debit or e-check online convenience fees will also be waived!
*To be eligible for this Early Bird Bonus, re-enrolling families must pay their 2019-20 tuition online through the Pathways' CheddarUp site with credit/debit card or e-check services. Credit/Debit card payments made to the office or via PayPal are not eligible. This promotion will end at 11:59pm on July 31, 2019.
Thank you for continuing your homeschool journey with Pathways. Please contact us if you have any questions.
CONGRATULATIONS, PATHWAYS ACADEMY CLASS of 2019!

Pathways Academy Class of 2019
Senior Recognition & Graduation Ceremony
MAY 18, 2019
2pm
The Church at Wills Creek
PATHWAYS' FAMILY END OF YEAR REMINDERS

Thursday, May 30, 2019 is the last office day of the 2018-19 school year.
The Pathways Academy Resource Center offic
e will be closed for a short summer break. If you have any transcript requests, need to pick up any forms or need to have any forms signed by an administrator (driver's permit, dual-enrollment forms, insurance forms, work permits, etc.) please contact or visit the school office by 4pm this Thursday.
RE-ENROLLMENT for the 2019-2020 school year is NOW OPEN!Don't miss the Early Bird Discount! It provides Re-Enrolling families an opportunity to save $10 off your regular tuition rate by re-enrolling before the July 31 deadline! Just click here to Re-Enroll & Save $10 today! – https://pathwaysacademy.mycheddarup.com
SEP REPORTING: 2018-19 2nd SEMESTER GRADES & ATTENDANCE REPORTS ARE DUE THE WEEK OF MAY 31. These forms may be submitted online through the Homeschool Reporting website or via hard copy form.
Reporting online does not require submission by email or in person. Administrators can access the progress reports online.
HARD COPY SUBMISSION OPTIONS:
Our FAMILY COMMUNICATION BOX is available on the back porch of the Resource Center. (The back side of the Resource Center can only be accessed from 2nd Street. It is located beside Dr. Kim Whitt's dental office at 407 2nd Street.) PLEASE NOTE: Parents who use a hard copy option are required to save the original SEP for your own records before submitting SEPs to the school office. Parents who use Homeschool Reporting are encouraged to save an "End of the Year" transcript from their family's Homeschool Reporting page for their own school records.
Please DO NOT DROP ANY FORMS into the ACTUAL MAILBOX at the front of the building.
(This is ILLEGAL. If caught doing so, you can be fined and/or jailed and anything you put in the box might be picked up by the postman rather than an administrator. Therefore, it will be lost.)
NEW ENROLLMENT INFO:
The NEW FAMILY APPLICATION PACKET is available on the Pathways' website –
www.pathways-academy.org. Instructions for submitting the application are included in the packet.
WILL YOUR FAMILY BE WITHDRAWING FROM PATHWAYS ACADEMY?
Please submit the withdrawal form from the school website: http://pathways-academy.org/forms/
The Pathways' Resource Center office will re-open at Noon on Thursday, July 11, 2019.
We are praying everyone will have a wonderful and safe summer!
We look forward to serving your family for the 2019-2020 school year!
Your Pathways Academy Administrators & Staff
Any Questions? Email an Admin: pathwaysacademy@hotmail.com
APRIL 2019 UPDATES


Pathways Academy Class of 2019 Grad Prep Deadline – April 4, 2019
Pathways Academy Class of 2019 Senors & Parents: Don't Forget the Grad Prep Deadline is coming up – Thursday, April 4, 2019!


This year, parents do not have to come into the office to submit your forms, fees, and slideshow photos. All of the grad details and payment options are available here:


The Pathways Academy Resource Center Office will be closed on Thursday, April 18, 2019 for the Easter holidays. We look forward to serving our families and potential families when the office reopens on at noon on Thursday, April 25, 2019.
If you have any questions while our office is closed, please review our school website, www.pathways-academy.org, or email an administrator, pathwaysacademy@hotmail.com.
We are wishing everyone a Happy and Blessed Easter!
We wish you and your family a wonderful Easter filled with the fellowship of family and friends and an ever abiding faith in God.
Easter is a time of rejoicing and rebirth. It is the day we celebrate Jesus' victory over death. And for those of us in Christ, it is our victory as well.
"Praise be to the God and Father of our Lord Jesus Christ! In his great mercy he has given us new birth into a living hope through the resurrection of Jesus Christ from the dead." 1 Peter 1:3
Happy Easter from our families to yours ~
The Pathways Academy Administrators & Staff


Pathways Academy
Undergrad Recognition & Promotion Ceremony
1:00 pm on Saturday, April 27, 2019


North Glencoe Baptist Church




(1119 Chastain Blvd. West Gadsden, AL)
For more information on participating in the Pathways' Undergrad Promotion Ceremony, please visit the Pathways' Activities Cheddar Up site: https://pathwaysundergradpromotion.cheddarup.com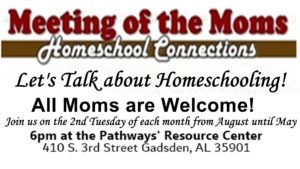 Homeschool Moms ~ Come join us at 6pm on the 2nd Tuesdays of each month (August – May) as seasoned homeschool moms, Darlene Harcrow and Susan Berger Allred,lead us in discussing homeschool topics designed to keep us informed and inspired to continue our homeschool journeys.
All Homeschool Moms and Prospective Homeschool Moms are welcome! Lap babies are welcomed, but we encourage you to let your husband keep the kiddos at home tonight so we can all talk freely without worrying about our children overhearing our concerns and comments about their progress.
The Meeting of the Moms Support Group is held at the Pathways Academy Resource Center –
410 S. 3rd Street in downtown Gadsden.

Pathways Academy Class of 2019
Senior Recognition & Graduation Ceremony
Saturday, May 18, 2019
2 p.m.
The Church at Wills Creek
(formerly CrossPoint Community Church)
Everyone is invited.
General admission seating will begin promptly at 1:30pm.
We hope to see everyone there!
REMINDER FOR SUMMER ACT TESTING
Be sure to choose Pathways Academy from the school drop down list OR use the Pathways' School Code to allow a copy of your score to be sent to the school office. (This will save you money!) The writing portion is not required for graduation purposes. However, if you plan to use your score in applying for scholarships, be sure to check with the college of your choice to see what is required.
A.C.T. TEST INFORMATION FOR SUMMER TESTING DATES
June 8, 2019
Regular Registration Deadline: May 3, 2019
($30 LATE FEE Required): May 4–20, 2019
July 13, 2019
Regular Registration Deadline: June 14, 2019
($30 LATE FEE Required): May 15-24, 2019
The ACT school code for Pathways Academy is 011-242.
Please use our school code when registering so that the school office will receive a copy of your ACT score and an ACT sticker to place on the student's final transcript. Without the certified sticker, many colleges and scholarship organizations require parents to pay for the ACT score to be sent directly to them. These fees can get quite expensive. Currently, the fee is $12 per report (to each college/organization) and $16.50 for rush/priority reports.
For more information, please visit the ACT website: www.actstudent.org.

ACT TIPS & PRACTICE INFORMATION
PREPARING FOR THE ACT: http://www.act.org/aap/pdf/Preparing-for-the-ACT.pdf
FREE ACT ONLINE PRACTICE SITES, STRATEGIES, & PRINTABLE PRACTICE TESTS:
http://www.actstudent.org/sampletest/
http://www.mhpracticeplus.com/act.php
http://www.examfocus.com/act/
https://www.march2success.com
https://www.number2.com/
https://www.4tests.com/act
http://www.mathontime.com/ – Concentrated Math practice
http://www.allpencilsdown.com/preparing-61C.pdf – Printable ACT practice test
http://www.act.org/aap/pdf/Preparing-for-the-ACT.pdf – ACT strategies; printable test|
Remember to Apply for a Fee Waiver if Your Family is Eligible:
Low-income families may find these ACT costs to be especially daunting. In an effort to mitigate this financial burden, the ACT offers fee waivers to certain students. You may qualify if you meet all of the eligibility requirements:
You're currently enrolled in high school in grade 11 or 12
You're a US citizen, or testing in the US, US territories, or Puerto Rico
You meet one or more of these requirements:

You're enrolled in/or eligible to participate in the National School Lunch Program (NSLP)
Your family income falls within guidelines for free or reduced price lunches;
Your family receives public assistance
You live in subsidized housing, foster care, or are homeless
You are a ward of the state or an orphan
If you are eligible, you can receive up to two fee waivers total. Each waiver covers registration costs, but does not cover any additional score reports or add-on fees. You have to apply for a fee waiver through the school counselor for the public high school of the community your family currently lives in. Please call ahead to ask which documentation the school requires. This can take time, so please make sure to apply for a fee waiver well in advance of the test dates you'd like to register for.
We wish you the best on your test! Please message me if you have any questions.
Mr. Michael Driskell
Pathways Academy High School Administrator