PATHWAYS FAMILY REMINDER:
Thursday, November 16 is the Final Office Day for this Semester!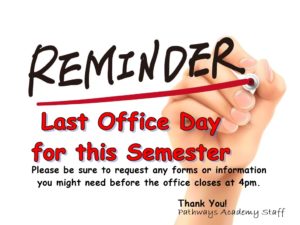 If you forsee that your family will need a transcript or need any form(s) signed (Driving permit, insurance, SSI, work permit, dual-enrollment agreement, etc.) before the school office re-opens at Noon on Thursday, January 4, 2018, please be sure to visit the Resource Center or contact us no later than 4pm on Thursday, November 16, 2017.
After November 16, the Resource Center will be CLOSED for the Thanksgiving and Christmas holidays. It will RE-OPEN at Noon on Thursday, January 4, 2018. If an emergency arises while the office is closed, Pathways' families may contact an admin by leaving a voicemail (calls to the school office will still be monitered) or sending an email. Please help us help you by providing a complete message with your full name and the situation you need help with.
We thank you in advance for your cooperation in allowing our staff members to spend time with their families during the upcoming holiday season. We wish you and your family a wonderful and blessed Thanksgiving filled with the fellowship of family and friends and an ever abiding faith in God.
Your Pathways Academy Staff
Please follow and like us: