Resource Center Office CLOSED for the Holidays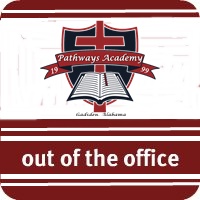 IMPORTANT RESOURCE CENTER REMINDER:
The Pathways Academy Resource Center Office is CLOSED until Noon on Thursday, JANUARY 4, 2018. We thank you in advance for your cooperation which allows our staff members to take some time off with their families for the Thanksgiving and Christmas holidays.
If you have an emergency, please send an email to an Administrator at pathwaysacademy@hotmail.com or use the contact numbers provided in your enrollment paperwork.
REMINDER: First Semester Progress Reports (grade reports and attendance) are due the week of December 1! Seniors, please submit your progress reports by December 19. If this is not possible, please send a message to the High School Administrator, Mr. Michael Driskell, to request an extension.
ONLINE REPORTING – Please submit grades and attendance for all subjects completed on your student's SEP for this semester. The address for the reporting website is www.homeschoolreporting.com
HARD COPY submissions may be mailed to –
Pathways Academy
PO BOX 411
Gadsden, AL 35902
OR placed in the COMMUNICATIONS INBOX which is located on the back porch of the Resource Center (2nd Street entrance).
THANK YOU & HAPPY HOLIDAYS!
We wish you and your family a wonderful holiday season filled with the fellowship of family and friends and an ever abiding faith in God.