Pathways Academy Homeschool Prom
Save the date
Saturday, February 29, 2020 6-10pm
VENUE: 2730 Wills Creek Rd, Gadsden, AL 35904
We're excited! We hope you are, too!
HERE ARE ALL THE PROM DETAILS!
PROM TICKETS**:




$25 PER PERSON

, IF PURCHASED BY February 22, 2020


$30 PER PERSON

, IF PURCHASED FEBRUARY 23 – 28, 2020


$35 PER PERSON

, IF PURCHASED AT DOOR (as space permits)



**When purchasing tickets for prom reservations, attendee and his/her parent or guardian must agree that the attendee (and his/her guests) will abide by the policies and dress code as established for the Pathways Academy Homeschool Prom. The Pathways' prom policies and dress code have been put in place to insure the safety of all of our guests at the prom and our prom venue.
THERE ARE TWO OPTIONS TO PURCHASE YOUR PROM TICKETS:
1.)
Pathways Academy Resource Center: The School Office will be open during Thursday Office Hours from NOON-4pm. We can accept cash, checks, & credit cards. ($35 RETURN CHECK FEE) The office is located at 410 S. 3rd Street in downtown Gadsden on the same street as Riverview Hospital.
2.)
The online ticket form located on the Pathways' Activities Website –

PROM ITINERARY:


CHECK-IN begins at 6pm: Please show your receipt and state your name to the chaperon at the front desk.
SENIOR LEAD-OUT:
Each year, our prom begins with a Senior Lead-Out and crowning of our Prom King and Queen from among our homeschooled seniors who are participating in Senior Lead-out. Seniors, please submit the Lead-Out Questionnaire.
Please fill it out ONLINE- https://tinyurl.com/2020promseniorleadout
NOTE: Seniors MUST LINE UP with their escort (parent, grandparent, friend/date of the opposite sex) NO LATER THAN 6:50pm to participate in Senior Lead-Out!
DINING:
Light hors d'oeuvres, finger foods, desserts, punch, and water will be available for prom attendees after the Senior Lead-Out is completed.
IN/OUT POLICY:
Pathways' prom attendees & their guests (of any age) are not allowed to come and go from the venue without a parent or chaperon unless the attendee is leaving the prom venue with no intention of returning.
PROM OPTIONS:

PROM T-SHIRT:


$15.00

if pre-ordered & paid for by 4pm on Thursday, February 14, 2020*
* This year, NO T-SHIRT ORDERS will be accepted or made after the deadline.
PROM PORTRAIT PACKAGE

:


$15

–

Individual portrait




$25

– Couple portrait


$45

– Group portrait (up to 6 people; additional people $2 per person)
Pick-up:
Portrait Packages will be available for pick-up on Thursday, April 11, 2019 from Noon-4pm during Thursday office hours at the Pathways' Resource Center (410 S. 3rd Street Gadsden, AL)

OR
By Mail:
Pay
$3 postage & handling charge to have portraits mailed to your home.
NOTE TO PARENTS & ADULT VISITORS:
Parents and Visitors will be allowed to stay until the end of the SR Lead-out. Immediately following the crowning of the King and Queen and the Senior group photo, everyone except our high school students, their guests, and our designated Pathways' chaperones and security, must leave the venue. This event is dedicated to our high school students. Their time and space is limited. We apologize for any inconvenience, but we must do what is best for our students and their guests who have purchased tickets to attend the Pathways' Homeschool Prom.
PATHWAYS' PROM POLICY REVIEW:

Please be respectful of our prom policies by reading and following the dress code and behavior requirements. Our School Administrators reserve the right to deny entry to the venue to anyone, even if he or she has purchased a ticket. Pathways' Chaperones & Security reserve the right to remove and send home any attendee if his/her attire, speech, and/or behavior is deemed inappropriate. Parents will be notified if a student or his/her guest is denied or removed for non-illegal reasons. If illegal activity occurs, the proper authorities will be summoned.
STUDENTS ELIGIBLE TO ATTEND: Any homeschool student or alumni who is at least 13 years old by March 16 (prom night) and not older than 21 on prom night.
GUEST POLICY:
Each homeschool student may invite up to 3 (three) guests who are not homeschool students. Guests must be between the ages of 13 and 21 years old and must agree to abide by and sign the Pathways' Dress Code, Code of Conduct, and Accident and Liability waiver option included on the ticket options or the printed registration form. Pathways' Prom Chaperons and Security have the right to check IDs if they have any concerns about the age of a guest. Attendees are responsible for their guest's behavior. Chaperons will make every effort to notify a parent if an attendee or his/her guest is asked to leave. If illegal activity occurs, the proper authorities will also be summoned.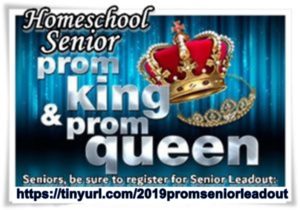 2730 Wills Creek Rd.
Gadsden, AL 35904