PATHWAYS' FAMILY REMINDERS~
This year's Re-Enrollment Deadline is Thursday, August 15. Families may re-enroll online – https://pathways-academy-2019-20-re-enrollment.cheddarup.comat with several payment options available OR stop by the Admin table at the Pathways' Family Kick-Off.
The Pathways' Family Kick-off is set for Thursday, August 15 from 10am-Noon at the Kiwanis Pavilion & playground located in Noccalula Falls Park. We hope you will come join us for all of the info and fun activities at this year's Kick-off. There are so many wonderful opportunities for clubs, classes, activities, and events this year! Don't miss out! It is going to be a fun and very informative day! Teens from our service clubs will be entertaining the kiddos on the playground. Food, drinks, snow cones, and desserts will also be available. Please consider helping our service clubs jump start their fundraising projects for this school year.
Please note: Due to kick-off duties, the school office will be CLOSED on August 15. It will re-open at Noon on Thursday, August 22, 2019. Our annual "How to Homeschool High School" seminar will also be held on August 22 from 2-4pm. Families with students in 9-11th grade are encouraged to attend. Please RSVP here: https://homeschool-high-school-19.cheddarup.com
Any questions? Please feel free to email an admin or send a message through the Pathways' FB page – https://www.facebook.com/pathwayshomeschool/
We look forward to assisting your family with your homeschool journey this year.
Pathways' Academy Administrators & Staff
"Show me your ways, O LORD, teach me your paths; guide me in your truth & teach me, for you are God my Savior, & my hope is in you all day long."-Psalm 25:4-5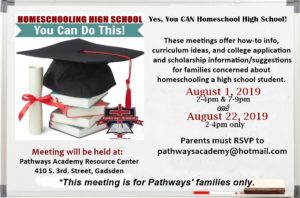 ---
PATHWAYS FAMILY REMINDER:
Thursday, May 30 is the Final Office Day for the 2018-19 School Year!
If you forsee that your family will need a transcript or need any form(s) signed (Driving permit, insurance, SSI, work permit, dual-enrollment agreement, etc.) before the school office re-opens at Noon on Thursday, July 11, 2019, please be sure to visit the Resource Center or contact us no later than 4pm on Thursday, May 30, 2019.
After Thursday, May 30, the Resource Center will be CLOSED to allow our Administrators and Staff members to enjoy a short summer break with their families. The Resource Center offices will RE-OPEN at Noon on Thursday, July 11, 2019. If an emergency arises while the office is closed, Pathways' families may contact an admin by leaving a voicemail (calls to the school office will still be monitered) or sending an email. Please help us help you by providing a complete message with your full name and the situation you need help with.
Prospective Pathways' families may consult the Pathways Academy Enrollment Packet for information on Pathways' Enrollment polices and procedures.
We thank you in advance for your cooperation in allowing our staff members to spend time with their families. We wish you and your family a wonderful and safe summer!
Your Pathways Academy Administrators & Staff