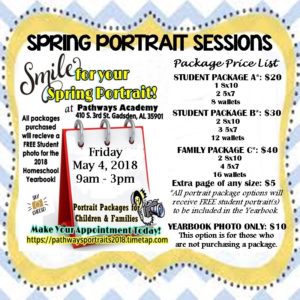 SPRING PORTRAITS AT
PATHWAYS ACADEMY
Have you booked your family's Spring Portrait Session for this Friday yet? Several appointment times are still available for this Friday, May 4, 2018.
We encourage you to grab the best appointment time for your family as soon as possible.
Families are invited to attend and celebrate our current K, 5th, and 8th grade students as they prepare to meet the challenges of promoting to the next grade for the 2018-19 school year.
Pathways Academy
Undergrad Promotion Ceremony
2pm on Saturday, May 5, 2018
North Glencoe Baptist Church
1119 Chastain Blvd.
West Gadsden, AL
Homeschool Moms ~ Come join us at 6pm on the 2nd Tuesdays of each month (August – May) as seasoned homeschool moms, Darlene Harcrow and Susan Berger Allred,lead us in discussing homeschool topics designed to keep us informed and inspired to continue our homeschool journeys.
All Homeschool Moms and Prospective Homeschool Moms are welcome! Lap babies are welcomed, but we encourage you to let your husband keep the kiddos at home tonight so we can all talk freely without worrying about our children overhearing our concerns and comments about their progress.
The Meeting of the Moms Support Group is held at the Pathways Academy Resource Center
(410 S. 3rd Street in downtown Gadsden).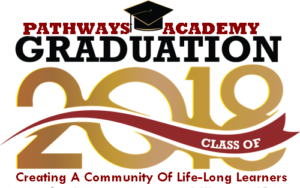 Pathways Academy Class of 2018
Senior Recognition & Graduation Ceremony
Saturday, May 19, 2018
2p.m.
The Church at Wills Creek
(formerly CrossPoint Community Church)
Everyone is invited.
General admission seating will begin promptly at 1:30pm.
We hope to see everyone there!

.

HOMESCHOOL SKATE DAY END OF THE YEAR PARTY
Sponsored by COMPASS Christian Home Educators Support Group
MAY 14, 2018
1-3pm
Merry Go Round Skate Center
Gadsden, AL
All skaters are $4 each (Non-skaters do not pay.)
We ask that each family bring a snack or drinks to share with the group.
Our kids love to party and skate but to assure everyone gets a snack we will have a set time frame for snack. (2pm) and then games on the skate floor, such as: wipe out, hot potato and limbo!
We will be announcing our annual COMPASS kick off date and early registration sheets will be available. This year the memberships will only be $5 and you will receive a digital newsletter as well as access to the COMPASS Facebook page, COMPASS Buy and Sell page, groups pages available through COMPASS, and not to mention all we have to offer!
We will love for you to be a part of the COMPASS family and join us for COMPASS End of Year Skate Party.
Hope to see you guys there!
Ryan Simon
COMPASS Chairman

DECEMBER 2017 UPDATES